Web Design Course in Thuckalay
UI UX Designer
Improve your skills in UI UX Design
Adobe Photoshop
Adobe Illustrator
Adobe XD
Figma

Duration: 40 Hours

UI Developer
Improve your skills in UI Developer
All from UI/UX Designer
HTML/CSS
JavaScript
jQuery
Bootstrap 5
WordPress Design
Duration: 60 Hours
Full Stack
Improve your skills as Full Stack Developer
HTML/CSS
JavaScript
jQuery
Bootstrap 5
PHP/MySQL
Duration: 90 Hours
Good environment and got lots of knowledge, friendly staffs
Deva Bifrin
16. August, 2022.
Best place to learn UI/UX design. Gained a lot of knowledge from scratch till end.
Jasmia Sherin
16. August, 2022.
Good platform to improve our skills .The way of teaching is excellent.
Web Deepan
15. August, 2022.
Excellent training center and good faculty ..Appreciate & Recommend 🤟
Trust worthy n innovative organisation in Nagercoil...
06 Ashmi
15. August, 2022.
I did my project in Bitzburg education. There I had good experience. The project was explained very well. Very best institute to do project.
Dino Shiju James
15. August, 2022.
Experienced faculties with good hands-on. Definitely recommend !!
RESHMA S
15. August, 2022.
Bitzburg is very helpful to improve my knowledge on web development. The way of teaching is good and make me to develop webpages within a small period of time. The Training gives confidence in front end knowledge. It helps me to attend interviews confidently. Thank you all for your guidance and support...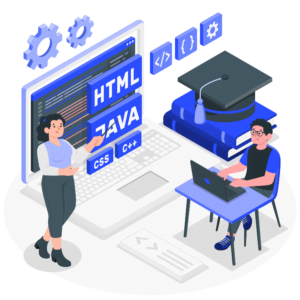 Improve your skills in
UI/UX Design
Web Design
Web Development
Data Engineer
Bitzburg Education aims at offering quality web design training to college students and fresh graduates. Our team aspires to build tech-loving students who are proficient in whatever they learn from our institute.
We are continuously committed to training and molding competitive graduates, setting fruitful examples for co-workers, and investing their knowledge into something innovative that adds credit to their career
PHP Skill Development (Web Developer)
Get your certified Web Development course done at Bitzburg Education Our professional
trainers take every effort possible to craft a syllabus that best fits your requirement. Also, the web design course in Thuckalay offered is specifically committed to enhancing the web development skills of college students or immediate freshers who want to pursue a career in creating websites using the latest technologies.
UI/UX Skill Development (Web Design Training)
Not all online customers have the same level of affinity towards a color palate; hence you must vary certain factors about the look and feel of the website. When you are at Bitzburg Education, you get to learn various important designing tactics and factors that are necessary to create a website that is a feast to the customer's eyes. Just a few months of a UI Developer Course will help you accomplish your dreams!
Are you searching for the best Web Design course in Thuckalay? Yes, you're in the right place. Bitzburg is the best choice to learn a web design course for you to fulfill your dreams.
Hadoop Skill Development (Data Engineer)
Hadoop is an open-source software framework for storing data and running applications
on clusters of commodity hardware. Hadoop provides massive storage for any kind of data, enormous processing power, and the ability to handle virtually limitless concurrent tasks
or jobs. This Course offered is specifically committed to enhancing the Hadoop
knowledge of college students or immediate freshers and professionals aspiring to learn the basics of Big Data Analytics using the Hadoop Framework and become the Hadoop Developer.